Are you planning to integrate a new water feature in your garden landscape? If you do, begin your project by resolving these three issues: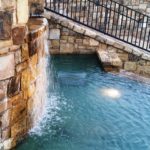 1. Does your garden landscape design reflect a design theme? If it does, be sure to design and integrate new water features so that the whole composition blends together. This is particularly important when selecting hardscape materials, textures and hues.
2. Location, location, location! Your new water feature (whether a pond, stream, waterfall or fountain) scale, style and placement should be selected cautiously, taking in to consideration the available space. Location ideally will be selected in a spot that can be enjoyed from indoor and outdoor vistas.
3. Professional design or DIY? Quickly determine if you intend to engage a professional landscape designer for your project, especially if you plan to include more complex water features, ponds, saunas or pools such as those found at many Main Line homes in communities such as Berwyn and Gladwyne, PA.
It's easy to bring the soothing sounds and effects of water in some form into your professional landscape design. Here are some tips from the experts at Aardweg Landscaping:
Ponds as unique focal points in the design: With their traditional simplicity and mirroring effect, ponds can bring a great dimension to your overall landscape design. They combine so well with shrubs and flowers of all types and create wonderful focal points.
Waterfalls combine with ponds beautifully! Often used in conjunction with ponds, waterfalls contribute such restful visual and audible appeal that affects the entire lawn and garden. Be sure to make room in your landscape to provide a secluded sitting nook in order to drink in the calming sights and sounds of your singing water, located in a nearby courtyard similar to the layout designed for an Aardweg Landscaping client in Gladwyne, PA, as shown below.

Streams of flowing water:
This type of water feature brings more of nature's sprawled out beauty into the landscape and furnishes a delightful place in which to enjoy the sights and sounds of running water – which can actually diminish or drown out the noise pollution of neighbors or traffic. It also offers a pleasant place to dangle feet on hot summer days. Layout above was designed as a natural flowing stream for clients in
Berwyn, PA
.
Fountains add vertical action in the landscape: Reminiscent of Old World architecture, fountains bring their own vertical form of beauty to the garden. Depending on the theme of your professional landscape design, there are an abundance of styles to choose from.
According to Evergreen, "Garden water features such as fountains and waterfalls come in myriads of different forms, designs and also the materials they are made of. Garden and backyard fountains can come in the form of multi-tiered fountains, barrel fountains, pond fountains and wall fountains."
Finally, integrating some restorative therapy into the landscape in the form of spas can, with the help of a professional landscape designer, be done beautifully and contribute its own unique element in the whole design. Whether you want your spa to suggest a more unstudied, natural style or a classically smooth in-ground tub with a waterfall, the wonders of nature can only enhance the healing benefits of the water therapy.
Complimentary On-site Consultation with Steve Aardweg
For a professional complimentary on-site consultation with Aardweg Landscaping owner Steven T. Aardweg,  APLD, to discuss using water features in the landscape design at your Main Line or Philadelphia home, call 610.355.0703, or send us an email using our website contact form. Aardweg Landscaping has over 35 years of design experience in southeastern Pennsylvania and surrounding areas.
---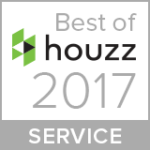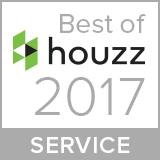 "Best Of Houzz" award for Customer Satisfaction
For four years straight — 2014 to 2017 — Aardweg Landscaping of Newtown Square, PA  has received the "Best of Houzz" award for Customer Satisfaction from Houzz. Aardweg Landscaping also received the  exclusive "Recommended" badge for top rated professionals on Houzz.
Steve Aardweg of Aardweg Landscaping
Possessing a broad knowledge of plants, Steve Aardweg of Aardweg Landscaping creates landscape designs and installations that are naturally suited to southeastern Pennsylvania communities, such as Berwyn and Gladwyne, PA.