The distinctive Japanese garden design features include water, rocks, sand, garden bridges, stone lanterns, water basins, garden fences and gates, trees, flowers, and fish. Let's consider some of these as you infuse a bit of Zen into your garden using the following classic Japanese landscape features:
Walkway materials – The overarching theme of the Japanese landscape style is simplicity. Walkway materials should be naturally compatibility with the entire garden scheme. Natural stone and sand are the traditional materials used. Other popular choices include exposed aggregate concrete or small stones sunken into the ground and planted amidst mosses or grasses to demonstrate a harmonious balance of both nature's and man's artistry. Pathways should be free and flowing, like a river, with no harsh or rigid lines.
Trees and flowers – Green is the color of choice in a Zen garden as it promotes contemplation and serenity. The plants integrated into the design should be soothing and multi-textured. Excellent selections are sweet flag, azaleas, ferns, bamboo, hostas, Japanese maples and mosses. Bonsai might be used as well in simple, earthy urns or planters. When placing plants throughout the garden scheme, remember to keep asymmetry at the fore. Your professional landscape designer will make this balance to be both seen and felt.
Natural rocks – Classic focal points in Japanese landscapes, rocks are unique studies of nature and blend perfectly into a garden whose purpose is to enhance meditative, restorative thought processes.
Décor – Seeing Japanese landscape design focuses on nature and simplicity, any added features are few and carefully selected. Of these, lanterns figure in very prominently, as well as rain chains and wind chimes.
Moving water – Flowing water in some form is often utilized in Japanese garden designs because of its soothing quality and ability to heal the mind. The choices can vary from ponds or streams to cascading fountains constructed of stone or bamboo.
Complimentary On-site Consultation with Steve Aardweg
Aardweg Landscaping offers a complimentary on-site consultation to new landscape design clients with Aardweg Landscaping owner Steven T. Aardweg,  APLD.  The consultation provides an opportunity to discuss design preferences and goals for your landscaped garden at your Main Line or Philadelphia home.
Please call 610.355.0703, or send us an email using our website contact form. Aardweg Landscaping has over 35 years of design experience in southeastern Pennsylvania and surrounding areas.
---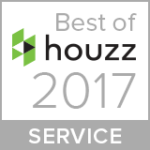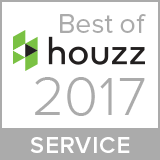 "Best Of Houzz" award for Customer Satisfaction
For four years straight — 2014 to 2017 — Aardweg Landscaping of Newtown Square, PA  has received the "Best of Houzz" award for Customer Satisfaction from Houzz. Aardweg Landscaping also received the  exclusive "Recommended" badge for top rated professionals on Houzz.
Steve Aardweg of Aardweg Landscaping
Possessing a broad knowledge of plants, Steve Aardweg of Aardweg Landscaping creates landscape designs and installations that are naturally suited to southeastern Pennsylvania communities. For more information call 610.355.0703, or send us an email using our website contact form.