Aardweg Landscaping specializes in a wide variety of garden themes and styles to satisfy the most fastidious of tastes. They design many types of garden styles to complement the lovely homes found on the Philadelphia Main Line, including:
The formal garden – This beautiful, classical style is refined, structured and orderly, and is characterized by traditionally strong use of linear walks and borders, easily maintained evergreens, shrubs and trees, with artistic placement of focal points and container plantings.
The casual, cottage or natural garden – This style is defined by low maintenance plantings of grasses and colorful and native plants, softly curved pathways, and the liberal employment of water features and natural hardscaping materials.
The Japanese garden – This style makes use of balance and harmonious surroundings, and encompasses the gamut from very simple rock and greenery designs to more intricate ones that incorporate styled plants and soothing water sounds.
Not only are these landscape design plans exquisite and trendsetting, Aardweg also strives to make them as practical and low maintenance as possible.  And, Aardweg Landscaping designs Japanese, formal and cottage gardens to match a wide array of residential architectural styles.  You may wonder how you should go about determining which garden style matches the architectural style of your home.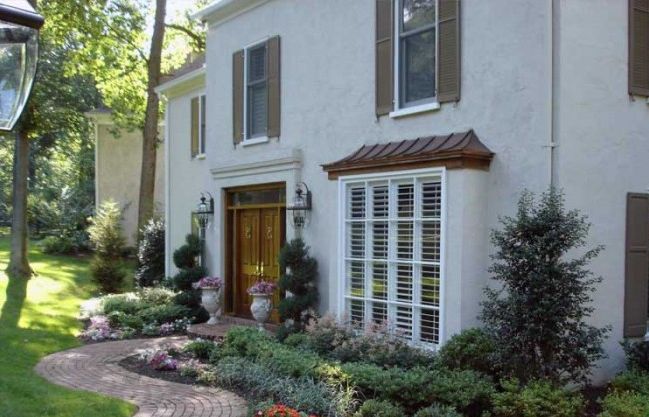 Here's the clue, if your home is a traditional Colonial, or a two story classically designed and symmetrically balanced home – your garden style is formal. If your home is contemporary or modern in style, and has simple, clean lines, your preferred garden style may be formal as well. Other, more eclectic architectural styles, such as a meandering one-story ranch, or a Prairie style cottage, would be less formal.
Whatever your preferred garden style, Aardweg offers a design to meet, yes, and exceed, your expectations – from formal to Japanese (and everything between), they have you covered!
Beautiful, intriguing designs, excellent customer service and affordable options, all in one place. What's not to love?
Nelson Boswell noted, "Here is a simple but powerful rule: always give people more than what they expect to get." At Aardweg Landscaping, that is precisely what you can expect to get. For over thirty years, this Main Line, Tri-State and suburban Philadelphia company has consistently impressed audiences with its innovative, passionate and professional approach to landscaping.
Signature Aardweg designs, installations and renovations have beautified the yards and gardens of many a satisfied Main Line customer. Aardweg Landscaping designs Japanese, formal and cottage gardens. The Aardweg staff is widely recognized for both its outstanding customer service, and its trustworthy work ethic. Noted also for quality craftsmanship, comprehensive plant knowledge and affordable payment plans, Aardweg Landscaping desires to meet and exceed the expectations of garden enthusiasts who desire to make their dream garden a reality.Japanese
---
Early in 2015, Aardweg Landscaping of Newtown Square, PA was 

awarded the "Best Of Houzz" 2015 award for Customer Satisfaction by Houzz, the leading platform for home remodeling and design. Are you interested in adding a formal or informal garden to your Main Line residence? To schedule a complimentary on-site consultation, call Aardweg Landscaping at 610-355-0703, or send an email using the website Contact form.