We recently posted about some of the upcoming October events at popular Philadelphia area botanical gardens and arboretum for gardening and landscaping enthusiasts living in the Tri-state area. If you've visited some of those gardens recently you may have enjoyed the wide variety of stone walkways. The vast array of garden walkway, steps and trail materials is limited only by the imagination of the landscape designer. Enjoy the following images that depict popular path and walkway landscaping ideas for your Main Line Philadelphia garden.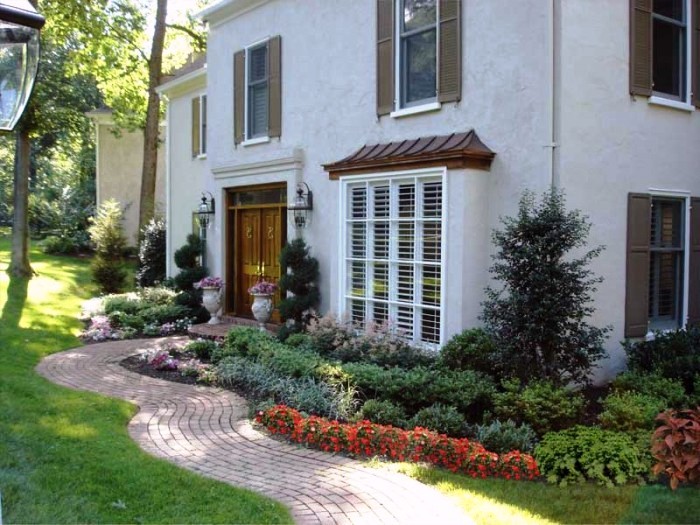 The serpentine lines of this lovely brick pathway approaching the elegant Main Line residence draw out the natural beauty of the adjacent garden, redefining the bed lines to create graceful curves. (Garden design by Aardweg Landscaping, Philadelphia, PA)
This stone garden path is dramatically punctuated at the end with a fanciful garden gate, marking a transition point between the densely planted private garden and the public beyond. (Image via stock.xchng, 'The Swedish')
This curved slate path winds through the elegantly landscaped garden approaching the front entry area defined by brick pavers. (Garden design by Aardweg Landscaping, Philadelphia, PA)
For a quick and simple garden walkway, these large pavers mark a straight path across the lush green lawn.
And finally, here's an aged grassy brick path laid in a herringbone pattern taking strollers through the wildflowers to a more formal hedged garden area. (Image via morguefile, kconnors)
Experienced APLD landscape designer, Steve Aardweg, of Aardweg Landscaping has the experience and creativity to design a stone walkway and a landscaped garden that will meet and exceed your dream garden expectations. Take a few moments to view our portfolio in order to see the large variety of landscaping plans, garden themes, and hardscaping designs including more pictures of stone walkway ideas for your Main Line Philadelphia garden.

Contact Aardweg Landscaping today by telephone at 610.355.0703 to arrange for a consultation at your home to discuss landscape design and landscape installation services available to residents of Tri-State and Philadelphia area communities.