Have you recently purchased a home in a new home community in Metro Philadelphia and now realize that you have a vast yard that needs privacy screening?  Or, maybe you've owned your home for a number of years and a new home has been built adjacent to your home, stealing your privacy. What are some of the things you should think about, as you consider different ideas for privacy screening?
What will the neighbor's think?
It is important to consider the impact of the privacy screen from the neighbor's perspective. Will it add a lot of shade to their property, block views, or enclose a portion of their yard? Additionally, is there any possibility the screen planting will impact drainage patterns or put pressure on an existing fence or stone wall on the neighbor's property?
How much space do you have?
If you have a small yard and are in need of privacy screening, it is important to realize that your plant selection will be critical. Certain types of plants, such as evergreens, which are excellent for screening, actually take up a lot of space. Other plants take up less space, but may grow more slowly and be less dense when mature.
Will you use a fence in addition to a planted screen?
Early on in the process it is critical to determine whether you will be adding a fence as part of the privacy screen. This brings additional considerations, both aesthetic and financial (and sometimes legal if your local municipality has restrictions for fences, walls, hedges and rockeries). In addition to these practical reasons for determining early on whether you will include a fence in your planning, the master landscape design will be impacted by whether or not there is a fence behind the planted area.
Summarizing, take a little time to consider all of the factors involved when you begin to plan for privacy screening at your Philadelphia home. There are trade-offs between the different options, after careful evaluation you can determine what your priorities are.
Landscaping ideas that facilitate screening for privacy primarily involve a hedge, a screen of trees, or a densely planted garden area with selected tall trees, each defined as follows:
Privacy Screen Hedge: A hedge is typically created by planting one variety of shrub adjacent to one another, and once the plants have filled out, shearing the hedge to create a formal look.
Planted Screen: A privacy screen made from plants typically a screen consisting of tall, narrow trees closely planted in a row.
Densely Planted Garden: This densely planted garden area with selected tall trees illustrates how we created beautiful landscaped garden areas that simultaneously provide privacy.
The images below illustrate a wide variety of landscaped garden plans that offer ideas for privacy screening in the garden.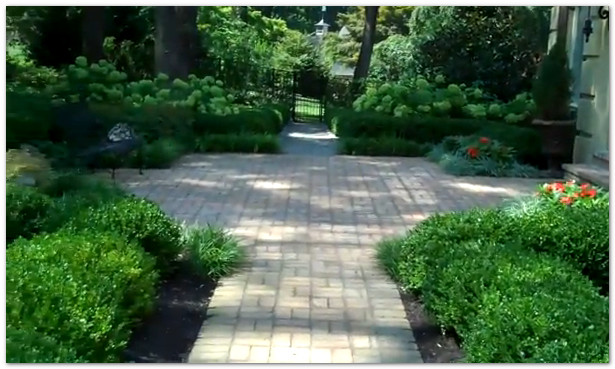 Looking for landscaping ideas for privacy screening? Consult with the talented landscape design professionals at Aardweg Landscaping; we can help you create a beautiful new garden with the privacy you seek. Call 610-355-0703 for a complimentary consultation at your home, or contact us online through the Aardweg Landscaping website.
Aardweg Landscaping is a recipient of the coveted Best of Houzz 2014 Award for Customer Satisfaction in Landscape Design and Architecture. Visit our Houzz page to see many gorgeous garden designs and images. 
Visit Aardweg Landscaping on Houzz and YouTube to see many fine examples of landscaped gardens that provide privacy and beauty, including gallery images and videos with narrated walk-throughs of some of both Formal and Perennial garden designs.