What if you had the ability to see exactly what your landscape could look like before you invest valuable time and expense into the project? Impressive strides in technology have made this wish indeed a reality. Aardweg Landscaping offers groundbreaking creativity through their use of 3D photographic images for landscape design for Main Line yards and gardens.
Traditional landscaping methods may be sufficient for the ambitious visionary type. But, for customers who would like to see pictures to know they will absolutely love the new garden, 3D photographic image design is the way to go.
How does this process work? First, real photographs are taken of your current landscape. Consultations between the customer and the landscape designer ensue reviewing plant preferences, garden layouts, and the costs associated with design, materials and installation.
Next, the desired features – plants, focal points, hardscapes and other elements – are integrated into the picture in true-to-life scale, at full plant maturity, to give the customer a realistic view of his renovated landscape before any of the renovations have actually been made.
The final product in the process is a garden design image that looks surprisingly realistic, especially when completed by a professional landscape architect. This innovative technology enables the homeowner to personalize his landscape as he desires and to know exactly what role his particular choices will play in the maturing design.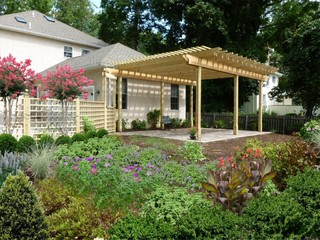 There no longer needs to be doubt that the buyer is getting exactly what he wants – the guesswork has been effectively removed with this brilliant tool used today by 
professional
landscapers
.
Helen Humphreys once observed: "What I've always found interesting in gardens is looking at what people choose to plant there. What they put in. What they leave out. One small choice, and then another, and soon there is a mood, an atmosphere, a series of limitations, a world."
How will you develop your statement landscaped garden? Get a glimpse into your own unique gardening style today with 3D photographic images for your landscape design!
---
Main Line landscape design, installation and maintenance company Aardweg Landscaping of Newtown Square, PA was recently recognized with 

the "Best Of Houzz" 2015 award for Customer Satisfaction by Houzz. As a full-service landscape company, Aardweg Landscaping has the design expertise, plant knowledge, and quality workmanship necessary to establish and maintain a reputation for superior customer service. To schedule a complimentary on-site consultation, call Aardweg Landscaping at 610-355-0703, or send an email using the website Contact form.
Links to additional resources: