A beautiful garden doesn't just happen – it is created in the mind before it ever becomes a reality. And that visualization is not limited to the plant selections themselves, but extends to that lovely work of art which comes in the form of picturesque landscaping and hardscaping. Let Aardweg Landscaping walk you through some gorgeous photos of natural landscaped walks and patios to inspire you with the potential mise-en-scene your yard might possess.
There is no question that a tastefully crafted hardscape leaves a positive impression on your overall setting, but let us look at some of the specific elements that might be used in these practical works of art: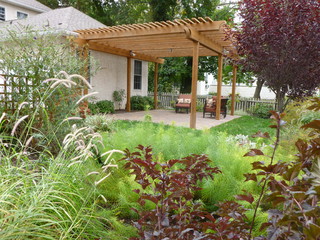 You can use a variety of natural materials. This might include stone, recycled materials, or a creative combination used to produce a soft, subtle, earthy presentation to your Main Line landscape design.
You can use limestone and granite for a more substantial presence. These are particularly effective incorporated into walls, patios and steps.
You can mix a natural selection with concrete to accommodate larger spaces, such as driveways, or an extended area around a pool, etc.
Stunning photos of natural landscaped walls and patios show just how unique and versatile these spaces can be.
If your style leans to the informal, cottage theme, natural materials that capture the essence of an unstudied grace are wonderful complements for this atmosphere. Imagine a softly curving brick or stone pathway, spilling over with herbs and sweetly scented flowers. Utterly charming!
Or perhaps you want more of the structure, formal feel. A straight granite or slate walkway and seating area bring strength and substance to your harmonious landscape of finely shaped shrubs and well-kept flowers.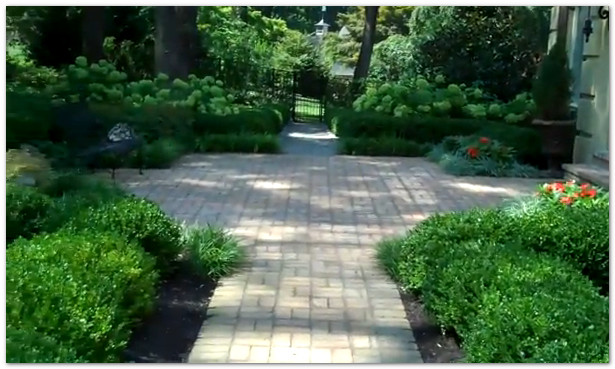 If your preference is the Oriental, minimalist style, then there are muted options to contribute to the serenity of your haven.
Are you contemplating the style you want reflected in your landscape and the materials that best suit that choice? Enjoy these images from Aardweg Landscaping showing professionally designed natural landscaped walks and patios. In 2015 Aardweg Landscaping of Newtown Square, PA  received both the  "Best Of Houzz" 2015 award for Customer Satisfaction by Houzz, and the exclusive
"Recommended" badge for top rated professionals on Houzz.
Schedule a complimentary on-site consultation with Aardweg Landscaping by calling 610-355-0703, or send an email using the website contact form.