While outdoor lighting is perhaps not typically a top priority in your Philadelphia garden landscape design, it is critical to the overall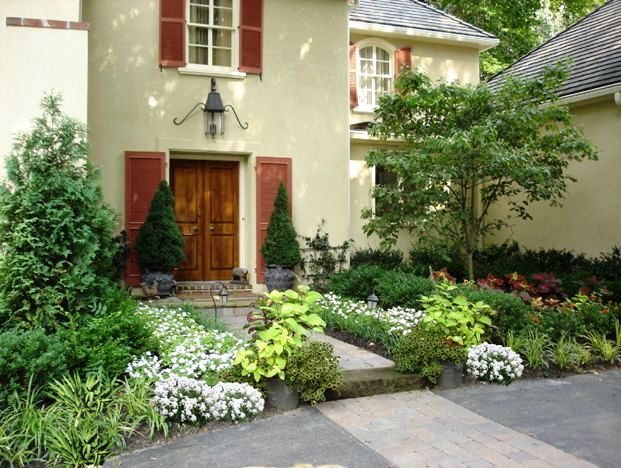 appearance of the garden when the sun goes down. It also affects how much the outdoor living space gets used at night, and provides a measure of security to boot.
There are a number of very practical reasons for integrating landscaping design with outdoor landscape lighting.
It makes meandering through pathways, walks, porches and steps much safer, reducing potential trips or spills in the dark.
It deters intruders from being able to wander freely on the premises.
It generates a wonderful ambiance.
It extends the practical use of the garden.
While you may be holding off on getting outdoor lighting due to the electricity requirement, it actually is not prohibitive. 120 volt lighting must be buried to a depth of 18-inces, and encased in conduit for waterproofing. HGTV.com says, "Low-voltage landscape lighting for the backyard needs only an outdoor receptacle and a transformer. The transformer converts the 120 volts coming from the household line to a usable 12 volts to operate the lights." Solar lighting fixtures are the easiest to install, requiring only that the photo voltaic cell in the lighting fixture is properly oriented to receive a maximum of sunlight  during the day.
Why not prolong your hours of garden enjoyment by incorporating some landscaping design with outdoor landscape lighting into your scheme? There are also many different styles of lighting to consider when choosing a landscaping design with outdoor landscape lighting.
Functional lighting – Includes lighting up paths, steps and driveways for clearly defined, safe nighttime excursions.
Ambient lighting – Strategically placed soft lighting can illuminate, enhance and set the mood in outdoor dining areas for intimate or festive occasions alike.
Architectural lighting – Pole mounted light fixtures provide general lighting while adding architectural character.
Entry lighting – Create a dramatic entryway with a variety of lighting options for a look that is warm and inviting. Focal points can be given a new dimension with special uplighting or accent techniques.
Don't think of your garden as off-duty when the sun goes down. Make night time the right time for a landscaping design with outdoor landscape lighting that truly makes your outdoor living space shine like a star!
In 2015 Aardweg Landscaping of Newtown Square, PA  received both the  "Best Of Houzz" 2015 award for Customer Satisfaction by Houzz, and the exclusive
"Recommended" badge for top rated professionals on Houzz. Schedule a complimentary on-site consultation with Aardweg Landscaping by calling 610.355.0703, or send an email using the website contact form.