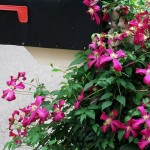 Is your mailbox simply a necessary structure in your Philadelphia landscaping design, or is it rather an opportunity to unleash your personality in gardening artistry?
Whether you choose to grow a small vine on the post your mailbox sits on, or to surround your mailbox with annual flowers that can be changed out each year — it's time to elevate mailbox garden areas from their mundane existence to something more dramatic.
Let's take a look at some lovely ideas that can turn this part of your Ardmore, Bala Cynwyd or Berwyn yard into an interesting and colorful focal point.
Formal garden – If your penchant in design tends toward the more stately, then think about a stone or brick mailbox structure, surrounded by lush, well-tended greenery such as miniature shrubs, sedums or creeping thyme, "mulched" with natural materials in a subtle border.
Butterfly garden – In the direction of more informal tastes, the butterfly garden offers lovely flowers that attract vibrantly-hued winged visitors for an even richer experience in your Philadelphia landscaping design. Excellent flower choices for this garden include bee balm, hibiscus, daisies, rudbeckia, salvia, coreopsis, asclepias, trumpet vine and jasmine.
Japanese garden – For an immediate inundation of feng shui, give things a more Oriental twist, with graceful additions of plants like Japanese maples, dwarf trees and shrubs, iris and perhaps some potted bonsai.
Easy-care garden
– For those who want dramatic impact with very little maintenance, this style is the perfect choice. Fantastic, free-flowering selections include plants like Russian sage, yarrow, rudbeckia, daylilies, carnations and herbs with vine choices like hardy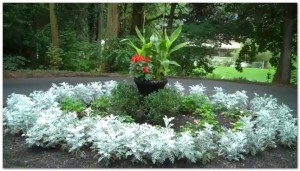 clematis, annual hyacinth bean or morning glory. Once established, these plants can take the heat
and
provide long-lasting beauty for your season-long enjoyment at your Main Line home in communities such as 
Ardmore
, 
Bala Cynwyd
 and 
Berwyn
.
There are so many possibilities for making your mailbox garden area a key player in your overall Philadelphia landscaping design. With the instant colorful impact it can bring to your yard, you may wonder why you didn't think of it before!
Aardweg Landscaping of Newtown Square, PA was a "Best Of Houzz" award recipient for Customer Satisfaction in 2014, 2015, and 2016.

The accomplished landscape design, installation and maintenance firm also received the exclusive "Recommended" badge for top rated professionals from Houzz in 2015, based on testimonials from clients in Main Line communities like Ardmore, Bala Cynwyd and Berwyn.
Schedule a complimentary on-site consultation with garden landscape design professionals from Philadelphia area Aardweg Landscaping by calling 610.355.0703, or by sending an email using the website contact form.