Summertime has officially made its debut. And while we move into those "lazy, hazy, crazy days of summer", are you perhaps wishing you had a professionally landscaped lawn and garden to enjoy them in?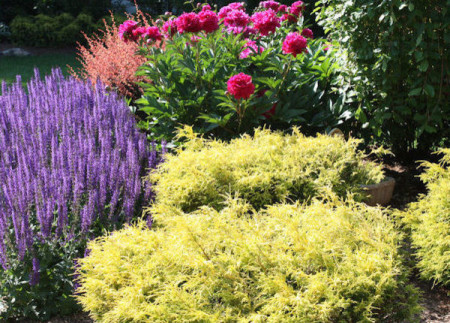 So what's stopping you?
Aarweg Landscaping has over 30 years of experience in creating uniquely beautiful, vibrant, utterly charming landscape designs for homeowners on the Main Line. Garden themes include:
Formal – Inundate your surroundings with the sense of order and refinement found in the classically formal garden pattern. Strong, clean lines define this style, as well as geometric shapes, monochromatic color scheme, neatly trimmed shrubs and trees, Old World urns and planters, with special emphasis on focal points.
Cottage – If your tastes are a little more relaxed, then perhaps the softer, more Impressionist style of the informal garden will appeal to you. This theme utilizes the contour of the land itself and is characterized by curving pathways, more natural hardscapes and sprawling, vivid gardens to create a masterpiece of color for homeowners on the Main Line.
Japanese – For a place to retreat from the world, a space designed for meditative relaxation, the Oriental theme might be just the solution. This style focuses on asymmetry and balance, using very natural elements of rock, water and plants to foster a sense of harmony with nature and rest in the soul.
Low maintenance – If you desire a garden that can pretty much take care of itself, then a landscape design based around native species and water conservation methods is your simplest selection.
Summer is here, which means it is high time for homeowners on the Main Line to get those landscape design projects out of the realm of potentiality and into that of living color reality! Aardweg Landscaping has all the resources and experience needed to make that exquisite landscape design happen!
In 2014, 2015, and 2016 Aardweg Landscaping of Newtown Square, PA  received the "Best Of Houzz" award for Customer Satisfaction

by Houzz. Aardweg Landscaping also received the exclusive "Recommended" badge for top rated professionals on Houzz in 2015.
Schedule a complimentary on-site consultation to discuss your landscape design possibilities with Aardweg Landscaping by calling 610.355.0703 or sending us an email.