"A garden to walk in and immensity to dream in…" said Victor Hugo, expressing the common view that there are few delights in life to exceed that of meandering through a lovely landscaped garden and admiring with every sense all the colors and textures and fragrances the lush surroundings have to offer.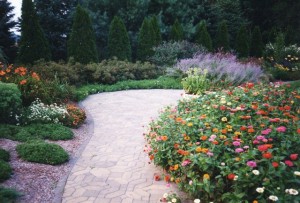 Have you ever thought what the garden would be like without a walkway from which to enjoy it? How would one move so seamlessly throughout the design if thought were not given to this rudimentary perhaps, but intrinsically crucial part of the scheme?
Let's consider a few ideas for incredibly beautiful garden walkways for your Main Line landscape design.
Straight lines – Classically formal and possessing ability to bring strong lines and character into the garden, geometric pathways feel clean, elegant, royal. The hardscaping materials determine how much of a role the path plays in the overall design, as muted, earthy materials scale the walkway down and let it work as a wonderful accent to the plants themselves whereas bolder definition in the materials can make it much more of a focal

point in its own right.

Curving lines – For a gentler, softer, more subtle atmosphere in your Main Line landscape design, undulating curves at once create a dreamy informal style. Stone, pebbles and wood mulch are perfect companions to such a cottage look and provide a perfect frame for billowing, smiling, charming plants and flowers.
Complementary accents – Garden pathway features that can take a pathway from good to stunning might include adding a lovely trellis covered with clambering vines, creating a tasteful garden gate at one end of the path, using the walkway to lead toward an intimate seating nook or guiding the eye toward a prominent focal point.
The possibilities are really amazingly endless for your Main Line landscape design. With some imagination, and perhaps some professional landscaping advice, you are bound to love not only your garden, but also the path which ties it all together.
In 2014, 2015, and 2016 Aardweg Landscaping of Newtown Square, PA  received the "Best Of Houzz" award for Customer Satisfaction

by Houzz. Aardweg Landscaping also received the exclusive "Recommended" badge for top rated professionals on Houzz in 2015.
Schedule a complimentary on-site consultation to discuss arrangements for landscape design, installation and maintenance with Philadelphia area Aardweg Landscaping by calling 610.355.0703, or sending us an email.