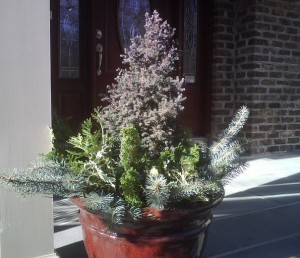 An old proverb suggests that "autumn is the season of change." And it is coming, the seasonal corner has been turned, and the fall is soon to be upon us.
Nowhere is this more evident than in the garden. The bright, flamboyant hues of summer give place to the deeper, richer tapestry of color in both bloom and foliage, and the hazy, dreamy atmosphere gives way to a crisp, invigorating clarity. Why not maximize the offerings of this royal time of year by adding some seasonal containers to your Philadelphia landscape design?
Here are some tips for creating perfect fall containers.
Take advantage of the color palette – From rusty reds and flaming oranges to brilliant yellows and soothing blues and purples, the range of hues is like a sensory explosion. Combine the cool and warm colors together to make showstopping container to regale your Philadelphia landscape design all throughout the fall season.
Utilize the plethora of shapes and textures – Because autumnal brilliance resides not only in flowers but also in color-changing foliage and late-forming berries, combining several of these features in one container can really pack a punch. The contrast of soft and bold, large and diminutive, spiky and feathery can create a lovely accent or focal point in your lawn and garden.
Add seasonal accents – Vibrant fall containers can take on even more excitement when paired with autumnal decorations such as pumpkins, corn shocks, hay bales and the like. The visual treat of such a combination adds a cheerful glow to your outdoor living space.
With autumn fast approaching, it's time to get your Philadelphia landscape design all ready for the new season. Find ways to incorporate unique, colorful containers throughout your lawn and garden – for color and richness that will only heighten your enjoyment of the great outdoors during this wonderful season.
In 2014, 2015, and 2016 Aardweg Landscaping of Newtown Square, PA  received the "Best Of Houzz" award for Customer Satisfaction

by Houzz. Aardweg Landscaping also received the exclusive "Recommended" badge for top rated professionals on Houzz in 2015.
Schedule a complimentary on-site consultation to discuss arrangements for landscape design, installation and maintenance with Philadelphia area Aardweg Landscaping by calling 610.355.0703, or sending us an email.