If you are considering selling your Main Line home, perhaps you have invested time and resources so far on preparing the house itself for showing. However, it has been soundly proven that landscape designs for home staging can generate more interest and a better price – by as much as ten-percent! Why is this?
Interestingly, it is the curb appeal that gives potential buyers their first impression before they even set foot in the house itself. This being the case means that your landscape design is crucial for home staging that actually sells.
What are some things you can do to vamp up the curb appeal for prospective buyers?
Step out with bold colors. Fresh, vibrant colors always catch the eye, so an installation of flowering annuals can dress up your landscape with minimal expense.
Style up the mulch for a crisp, clean look. A new layer of mulch grounds the entire landscape and sets off existing shrubs, trees and plants.
Think inside the box… or container. Container plants can really take the visual appeal up a notch, by giving immediate impact, a substantial presence in the yard and splashes of color throughout the landscape.
Manicure the shrubs and trees. Potential customers want to get the sense that the landscape, as well as the house itself, has been well cared for.
Freshen up hard surfaces. A power washer can do wonders by transforming dingy walls, fences and siding and giving them a "like new" look.
How do you know what design features home buyers are looking for? Landscaping.about.com says buyers are looking for low maintenance landscapes with year round visual interest. Water features are popular as well. From the article, "The most striking landscape designs have a focal point, or accent. A well-executed water feature is a focal point that can set your property apart from the rest."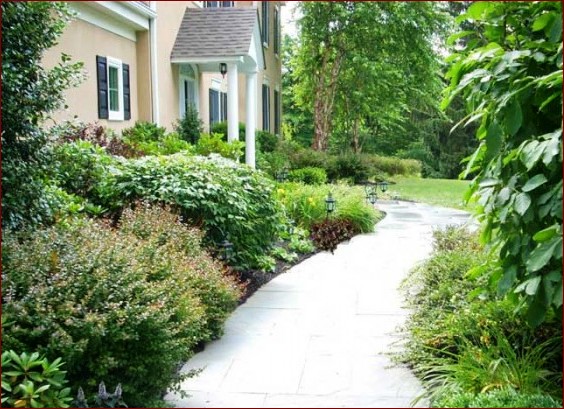 As you can see, there are a number of landscape designs for home staging which can easily be implemented to make your property stand out from the
rest – and draw in the customers with your tastefully presented curb appeal. In business for over 35-years, full-service landscape design company Aardweg Landscaping of Newtown Square, PA was awarded the "Best Of Houzz" 2015 Award for Customer Satisfaction by Houzz, the leading platform for home remodeling and design.
Interested in learning more about landscape designs for staging your Main Line or Philadelphia home to sell? Aardweg Landscaping is pleased to provide on-site consultations at homes in communities throughout the metro Philadelphia area. To schedule a consultation, call Aardweg Landscaping at
610-355-0703, or send an email using the website contact form.