Just imagine… it's been one of those all-too-familiar days – long and hard. You are exhausted and can think of nothing more relaxing than getting back to the solitude of your home and unwinding in the privacy of your landscaped backyard designed for privacy. Perhaps you plan to enjoy a nice refreshing dip in the pool or lounging in the cool of the evening, c
old drink in hand, listening to the quiet sounds of nature.
Then you realize your neighbor has decided to mow her lawn, or she is just starting a noisy birthday bash for her child. Even worse, she may simply start to exhibit neighborly curiosity in what you're doing! That is when a landscaping plan designed to increase privacy becomes a top priority for your yard.
With more and more of today's suburban homes located very close together, and more builders using zero lot line plans, homeowners now turn to landscaping design to gain privacy. What are some of the best options for achieving privacy in the landscaped garden?
Hardscaping for Privacy
A hardscaped wall of blocks, brick or stone offers a unique look and achieves the privacy you may have lost to new development around your home. Attractive ground cover and mid-height trees will soften the geometric lines of the wall.
Landscaping with Privacy Fencing
Privacy fences offer the greatest flexibility at the lowest cost to increase privacy around your property. Carefully selected plants will enhance and soften the hard edge created by the fence. Attractive detailing with a wide cap piece, in addition to plants, will break up an otherwise boring facade on a tall fence. An open latticework fence offers a discrete but clear barrier to neighbors.
Living Walls Create Privacy in the Garden
A living hedge of trees, shrubs or even bamboo can be a fresh way to screen out noise and unwanted spectators. An arrangement of tall, low maintenance plants in the landscaping design for privacy can be an effective and beautiful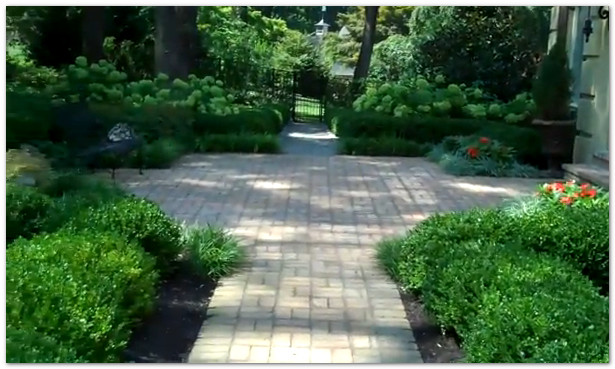 buffer to block sights and sounds of the "outer world." A trimmed boxwood shrub adds classic elegance and closes the gap between public and private spaces. Another option is a buffer zone arrangement. According to LandscapingNetwork.com, "The buffer zone is simply a wider fence line foundation planting that positions large trees and shrubs in a way that interrupts the view with foliage masses at various depths in the field."
Transform your yard into the sanctuary you desire with a landscaping design for privacy from Aardweg Landscaping. Aardweg Landscaping appreciates your need to have a retreat from the rest of the world, offering attractive and cost-effective privacy options for your residential landscape design. A Main Line landscaping design for privacy designed and installed by Aardweg Landscaping will surely meet and exceed your expectations.
Are you interested in a Main Line landscaping design for privacy? Contact the talented design professionals at Aardweg Landscaping; ready to help you create a beautiful new garden with the privacy you seek.
With many happy customers, here's what Dr. Alan and Marcy G. of Villanova, PA had to say about Aardweg Landscaping:
"Privacy was one of the issues that needed addressing along with the renovation of our overgrown landscaping. When we moved in you could barely see the house for the trees and shrubs. Aardweg Landscaping gave us the pros and cons of our options, and provided us with clear ideas of where and how to go. Our garden looks wonderful, plus our neighbors and we now have more privacy. Great job!"
Call
610-355-0703 for a complimentary consultation at your home, or contact us online through the Aardweg Landscaping website.
---
Aardweg Landscaping is a recipient of the coveted Best of Houzz 2015 Award for Customer Satisfaction in Landscape Design and
Architecture. Visit our Houzz page which features dozens of gorgeous landscaped garden designs and images.