Any number of landscaping challenges can ironically jump start the perfect landscape makeover including poor drainage, unsatisfactory layout, crowded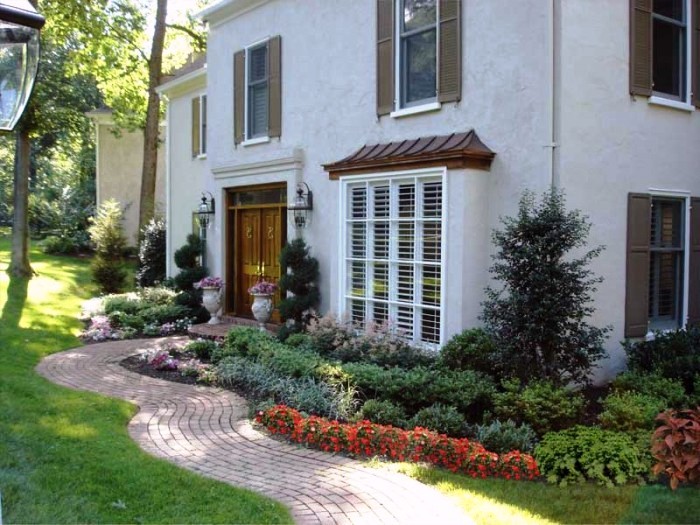 beds, and too much noise or visual access from adjacent properties. Each of these common landscape design problems is frequently encountered by Philadelphia homeowners, and each has an array of available solutions.
Garden Style Issues – If your landscaping theme doesn't complement your house, then it's time to redefine your style. Maybe your home's character or architectural style suggests a cottage garden style of landscape design bursting with curved borders and billows of floral sprays. Perhaps it conjures up a formal landscape design, with strongly defined lines, stately focal points and monochromatic colors. Possibly your preference is something more relaxed and meditative, along the lines of an Oriental garden design. A professional consultation can tap into your yard's latent beauty just waiting to be discovered!
Privacy Screens – Regardless of the size of your outdoor space, you shouldn't have to deal with the noise from neighbors and traffic or have the disconcerting feeling that your every move is being watched by curious unseen eyes – unless, of course, you prefer it. Since that is highly improbable, there are really wonderful options for attractive and effective living screens to solve this common landscape design problem at Philadelphia homes – check out the before and after pictures of screening for privacy.
Drainage and Erosion Issues – Poor drainage can take a toll on the landscape, often destroying flower beds or leaving ponds in the lawn after torrential rain. Effective techniques to resolve damaging soil erosion and storm water issues include swales to redirect water drainage; heavy mulch such as hardwood mulches; rain spout diversion; the use of underground drains along driveways and permeable driveway surfacing materials.
Common landscape design problems at Philadelphia homes can be frustrating. Look to the local landscape design professionals at Aardweg Landscaping for help in addressing these types of problems.
---
In 2015 Aardweg Landscaping of Newtown Square, PA  received both the  "Best Of Houzz" 2015 award for Customer Satisfaction by Houzz, and the exclusive
"Recommended" badge for top rated professionals on Houzz.
Schedule a complimentary on-site consultation with Aardweg Landscaping by calling 610.355.0703, or send an email using the website contact form.