As a Philadelphia area homeowner, are you intimidated by the idea of having a lush, extensively landscaped residential property? Many homeowners feel that having anything more developed than a few lovely trees, small foundation plantings and attractively potted plants on the doorstep necessarily involves too much work, time and money spent on landscape maintenance. Be prepared to smile then when you read on…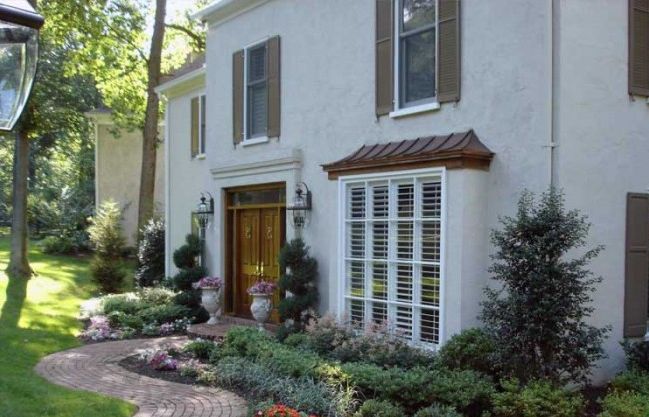 With Aardweg Landscaping's ability to provide year round Philadelphia landscape maintenance, you can quite literally have your cake and eat it too! This prestigious Main Line Company offers a full lawn and garden service for every imaginable landscaping need – to facilitate the truly beautiful and literally carefree home owning experience. The range of available areas of expertise includes:
1. Scheduled or periodic landscape maintenance – This involves every aspect of lawn and garden care, and visits can be as regular as clockwork or occasional scenarios when you want some extra attention to detail for special events.
2. Seasonal pruning – Another of Aardweg's superb year round Philadelphia landscape maintenance offerings is their pruning, trimming and cleaning service. The professional team is well acquainted with the specific needs of trees and shrubs, the best ways to control and get rid of invasive plants and weeds, ornamental trimming techniques – in short, everything necessary to make each year in your garden better than the last.
3. Garden rejuvenation – If your lawn needs updated and redefined, freshly planted flower beds, new mulch and restored pathways, Aardweg has everything to make this process a breeze.
4. Irrigation – Your irrigation system is likely something you take for granted until the day it doesn't work properly. Aardweg can repair and maintain your drainage systems to keep things working like they should.
BHG.com
says, "Just as your yard has four distinct seasons of growth and rest, it has four distinct seasons of landscape maintenance. What you have to do depends on the time of year and the type of tree or plant, too." For year round — four season —
Philadelphia landscape maintenance
, look no further than Aardweg Landscaping whose wealth of knowledge, experience, exceptional customer service and competitive pricing will leave you more than satisfied.
"This is the third time we used Aardweg Landscaping. The first two gardens they created for us in the last 4 years look great now. Their price is not the least expensive, but they normally give 3 different ranges of cost from which we can choose. Also, they try hard to incorporate our wishes for designs and plants we want to have. They are real professionals and they care about the quality of their work. Even after a few years from the project completion, they still come back and take care of problems (e.g., broken tubes in the irrigation system). They are very reliable. We recommend them with our utmost confidence."
In 2015 Aardweg Landscaping of Newtown Square, PA  received both the  "Best Of Houzz" 2015 award for Customer Satisfaction by Houzz, and the exclusive "Recommended" badge for top rated professionals on Houzz. Schedule a complimentary on-site consultation to discuss arrangements for year round landscape maintenance with Philadelphia area Aardweg Landscaping by calling 610.355.0703, or send an email using the website contact form.