There is little disputing the fact that making a residential garden beautiful and lush, and up-to-date on the myriad of maintenance chores, is just plain hard work. So much so, that except in the rarest of cases, homeowners sometimes allow time and inertia to take their toll, resulting in an unkempt, jumbled mess of vegetation in the landscaped garden- requiring garden restoration.
How does one recover a beautiful Philadelphia landscape design when the garden is overgrown? Fortunately, there is a simple solution to this problem.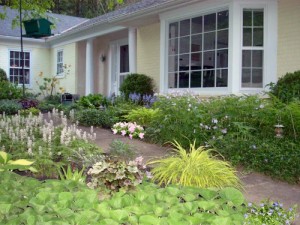 And then, thinking about bringing the overgrown garden back into bounds can appear to be a very daunting task. How does one recover a breathtaking Philadelphia landscape design when this happens? Fortunately, there is a simple solution to this problem.
Aardweg Landscaping offers the solution. 
This company has been providing quality landscape services for the Main Line for over thirty years and has the experience to help you restore and maintain the garden you love. What can they do for you?
Design renewal – Sometimes a Philadelphia landscape design has simply gotten out of hand, and the homeowner wants to reclaim the original design. The professionals at Aardweg can expertly assess the steps needed to make that very thing happen – whether it be pruning, removal of over-crowded plants, refreshing hardscapes and laying new mulch – for a new take on your old garden!
Garden excitement – Occasionally a design is serving the basic needs but is simply not extraordinary. Aardweg loves to incorporate the unique design ideas that reflect your unique taste. They can help you create a landscape that pops with color and personality.
Complete redesign – What if you just hate the existing design? Aardweg can work with you to determine your wishes for your new Philadelphia landscape design; both removing the old scheme and installing the new one.
Does your Main Line landscape pose too much work or not provide the atmosphere or visual impact you's like? Give Aardweg Landscaping a call to discover the garden of your dreams.
In 2014, 2015, and 2016 Aardweg Landscaping of Newtown Square, PA  received the "Best Of Houzz" award for Customer Satisfaction by Houzz. They also received the exclusive "Recommended" badge for top rated professionals on Houzz in 2015.
Schedule a complimentary on-site consultation with Aardweg Landscaping to discuss landscape design and installation to create a beautiful garden restoration for your Main Line home.
Contact Philadelphia area Aardweg Landscaping by calling 610.355.0703, or send an email using the website contact form.