Have you ever meandered the well planned pathways of a beautifully executed landscape design and just marveled at the harmonious, cohesive feel of the overarching plan? Or, possibly you are looking at your front or backyard garden and lawn areas and thinking that you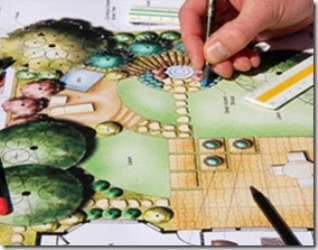 would enjoy seeing a professionally designed landscape plan for your yard.
Let's look at four elements that might feature strongly in a great lawn and garden design at you Mail Line home:
Enhancing privacy – Regardless of the size of your property, privacy is essential for you to enjoy your outdoor living space without feeling like your life is an open book to curious neighbors or passersby. Creating an intimate, cozy space to entertain family and friends is a classic feature of a Main Line residential landscape, and this can be accomplished by the careful placement of privacy hedges, including flowering and evergreen shrubs, or fast-growing trees as an attractive "living hedge" to foster the sense of privacy and ward off any unwanted attention.
Complementing existing architecture – Designing an attractive landscape design is anything but simple. It is all too easy to incorporate elements that don't match the tone and style of the main house and outbuildings, resulting in a jumbled, disorganized and disharmonious scheme. It is very important to match design styles (e.g. formal vs. casual), hardscapes, and plant selection to the existing; as well as to use plants and garden themes that augment the house's structural and architectural appeal. 
Low-maintenance and environmentally sensitive landscape materials and methodologies provide for less time spent in the gardenand a responsible use of the natural environment.
One more suggestion, it has become increasingly popular to integrate the natural beauty and productivity of fruit trees and shrubs into the landscape – packing a hefty two-for-one punch in your overall design. These fruit trees and shrubs come in numerous varieties, shapes and sizes to suit every taste, budget and garden space.
Your Main Line residential landscape can accomplish the purposes and possess the atmosphere you want. Call your local landscaping professional today to see how close you really are to having the wonderful landscape of your dreams!
Aardweg Receives "Best Of Houzz" award for Customer Satisfaction
In 2014, 2015, and 2016 Aardweg Landscaping of Newtown Square, PA  received the "Best Of

Houzz" award for Customer Satisfaction by Houzz. They also received the exclusive "Recommended" badge for top rated professionals on Houzz in 2015.
Schedule a complimentary on-site consultation to discuss arrangements for landscape design, installation and maintenance with tri-state southeastern Pennsylvania, southern New Jersey and northern Delaware area Aardweg Landscaping. Call 610.355.0703, or send an email using the website contact form.