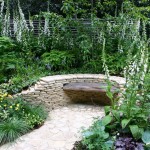 Retaining walls often feature prominently in residential landscape design, offering both aesthetic beauty and functionality. They not only hold back the earth effectively, but graced with the softening influences of plants and flowers, retaining walls provide an imposing character that is classically simple yet attractive.
In fact, "…more than problem-solvers, retaining walls also have a sculptural quality that adds definition to the landscape, and they can be made from various materials to evoke different styles," according to thisoldhouse.com. If your landscape plan requires the addition of a retaining wall, consider structural integrity,  material selection and scale before adding a retaining wall to your Philadelphia / Main Line area landscape.
The purpose and size of the retaining wall largely determine  the alternative designs that can be considered in its construction. A shorter structure designed for raised beds or multi-level gardens may be safely self-supporting, but anything over three feet high needs to be reinforced for backfill loads, internal weaknesses or future damage due to storm water flow.
There are a number of good options for retaining wall materials that will complement your Philadelphia / Main Line landscape. For an aura of authenticity and natural beauty, Pennsylvania bluestone is an excellent choice. Brick is also sturdy and durable, although matching bricks to existing architecture can be a bit tricky. "Stacked timbers or mortared stone, for instance, can impart a rustic look, while poured concrete is sleekly modern," says thisoldhouse.com. Concrete is affordable and structurally efficient, but not nearly as aesthetically pleasing.
Appropriate scaling of the wall, landscaping and graded areas  is critical. Errors of scale can easily overwhelm the landscape, which can be detrimental to the desired look and feel of your garden. You can adjust these features ultimately by selecting plants that complement the scale of the retaining wall itself, but nothing will replace professional advance planning. Let the statuesque beauty of tastefully designed retaining walls add further depth, richness and value to your Philadelphia / Main Line area landscaped property.
Consider Newtown Square Aardweg Landscaping as your go-to professional for a retaining wall and landscape design plan that will provide the structural integrity,  appropriate materials and the right scale for your retaining wall design. In 2014, 2015, and 2016 Aardweg Landscaping of Newtown Square, PA  received the "Best Of Houzz" award for Customer Satisfaction

by Houzz. Aardweg Landscaping also received the exclusive "Recommended" badge for top rated professionals on Houzz in 2015.
Schedule a complimentary on-site consultation to discuss arrangements for landscape design, installation and maintenance with Philadelphia area Aardweg Landscaping by calling 610.355.0703, or sending us an email.