The only thing better than having lush and gorgeous gardens in your Main Line landscape is having attractive walkways to make moving about the premises an easy and utter pleasure. So what are some ideas that can turn a mere pathway into a complementary accent in your whole design – and a work of art in its own right?
Use repetition of geometric shapes – For a more modern twist on the traditional formal style; consider interspersing crushed rock with brick pavers. This gives a grounded feel to the garden scheme while offering varied textural interest.
Add a little freestyle – Perfect for your Main Line landscape, Pennsylvania bluestone slabs bring a touch of authenticity and a strong structural presence. Each slab is irregularly shaped, bluestone is perfect for the informal garden, and completely enchanting softened on the edges by bright perennials and delicate ground covers.
Bring in a touch of Old World – An intricately laid path of flagstone enhances the established garden feel with a hint of European charm. Soften the edges with flowery perennials to brighten the path.
Perfect for your Main Line landscape, Pennsylvania Bluestone slabs bring a touch of authenticity and a strong structural presence.
Go for the minimalist look – For a chic, non-cluttered feel, use basic stepping stones surrounded by Bluestone chips to give smooth access to any part of your lawn and garden.
Try a little whimsical – Steppingstones sunken into lovely grass and framed by layered plantings are visually appealing and add character to the garden. Add a circular stone patio with cozy seating at the end of your fanciful path.
Finally, for an even richer sensory experience, have your chosen pathway cross a flowing stream of water designed to recirculate within one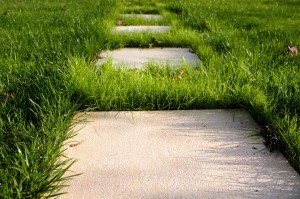 garden zone, or let the pathway travel across raised stepping stones in a pond. Your Main Line landscape is your haven, your own little retreat from the world.
Here's one important tip to remember about walkways from thisoldhouse.com, "…to give the path structure and stability, it must have a compact base. In zones with hard clay, that can be the soil itself. But in most areas, especially where the soil is sandy, you'll need to create a base of tamped-down stone pack, which is a mix of ¾-inch stones and stone dust."
Create a wonderfully artistic and original Philadelphia residential landscape with decorative garden paths and walkways for enjoyable outdoor living for years to come.
In 2014, 2015, and 2016 Aardweg Landscaping of Newtown Square, PA  received the "Best Of Houzz" award for Customer Satisfaction

by Houzz. Aardweg Landscaping also received the exclusive "Recommended" badge for top rated professionals on Houzz in 2015.
Schedule a complimentary on-site consultation to discuss arrangements for landscape design, installation and maintenance with Philadelphia area Aardweg Landscaping by calling 610.355.0703, or sending us an email.