"Garden design is all about concealment and surprise," said Andrew Crofts. How true it is. We employ the vast palette of gardening gems to hide the ugly or mediocre, or simply to delight us with the beautiful. And rocks and boulders play an important role in both of those essential functions for a Main Line landscaping design.
The "naturalness" of rocks and boulders brings a welcome authenticity to a cleverly designed landscape. After all, a garden is warm and inviting and earthy, and what is more raw and rugged and original than stones? What are some things to keep in mind when seeking to integrate these key players into your lawn and garden?
Select wisely – There are so many different varieties of rocks and boulders to design with, both in terms of color and shape, to choose from. Make sure to pick something that will blend harmoniously with the existing features of your home and landscape to bring a balanced, cohesive atmosphere.
Shop locally – For homeowners interested in a Main Line landscaping design, this could mean sourcing readily accessible native Pennsylvania bluestone for the perfect, natural gardening accent.
Scale carefully – It is easy either to overwhelm or severely understate your garden if the scale is off. A professional landscaper can really be invaluable in this regard, because his expertise will help direct toward the sizes needed to complement, and not downplay, the desired design.
Situate well – Placement is very important, and it takes a lot of manpower and experimenting to achieve that "perfect" look. Again, the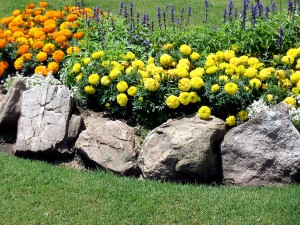 experience of a trusted landscaping expert is a huge asset in helping keep the costs and potential risks down.
There is nothing like a beautifully planned and executed Main Line landscaping design to surprise and satisfy, and the incorporation of rocks and boulders brings yet another element of nature and harmony for you to revel in for years to come. Looking for assistance in planning a new garden design?
In 2014, 2015, and 2016 Aardweg Landscaping of Newtown Square, PA  received the "Best Of Houzz" award for Customer Satisfaction

by Houzz. Aardweg Landscaping also received the exclusive "Recommended" badge for top rated professionals on Houzz in 2015.
Schedule a complimentary on-site consultation to discuss arrangements for landscape design, installation and maintenance with Philadelphia area Aardweg Landscaping by calling 610.355.0703, or sending us an email.