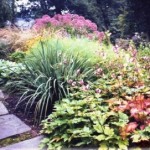 With warm weather becoming the happy norm these bright springtime days, it is only natural that enthusiastic homeowners are looking to vamp up the infusion of color and garden excitement in their Main Line landscape design. How?
One way to really pack a punch of colorful drama into your gardening scheme, regardless of how small the space might be, is to plan in levels or layers – taller plants at the back, medium ones in the center and smaller ones in the front. This brings a fuller, more complex, more 3D feel to the garden, in contrast to the monotony of a more two-dimensional approach – which can help you achieve maximum effect in your Main Line landscape design.
Let's check out a few more tips to get your lawn and garden all ship-shape for the summer season.
Curb Appeal – A quick trip outside to view your lawn and garden from the street will help you determine where your landscape could use some splashes of color or a little TLC. Dreaming up a cheery mailbox garden, power washing dingy siding, adding fresh paint to weathered fences or outbuildings, sprucing up the main entry with unique planters or decorative lighting – all of these can really bring a feeling of orderliness and beauty to the curb appeal that both permeates your entire design and wows neighbors and passersby.
Focal Points – This is a powerful landscaping technique designed to draw the eye toward either a naturally occurring or carefully situated feature. This could be as simple as a statue or decorative urn in an eye-catching place or as complex as a stunning water feature. The possibilities are many.
Outdoor Living – Finally, don't neglect landscaping for outdoor kitchen and living options. "Despite the various weather conditions, many Pennsylvania homeowners still want and use outdoor living spaces. If built with the right materials you can have a gorgeous outdoor fireplace, kitchen or pergola that will add to the value of your home and the quality of your life," says Landscapingnetwork.com.
While nature turns up the heat, why not turn up the color in your Main Line landscape design? With just a little well-placed attention, you can take your lawn and garden from nice to awesome for the whole summer season!
In 2014, 2015, and 2016 Aardweg Landscaping of Newtown Square, PA  received the "Best Of Houzz" award for Customer Satisfaction

by Houzz. Aardweg Landscaping also received the exclusive "Recommended" badge for top rated professionals on Houzz in 2015.
Schedule a complimentary on-site consultation to discuss arrangements for landscape design, installation and maintenance with Philadelphia area Aardweg Landscaping by calling 610.355.0703, or sending us an email.