Having a small yard does not mean that having a beautiful landscape is out of the question. It just means that more planning and detail need to be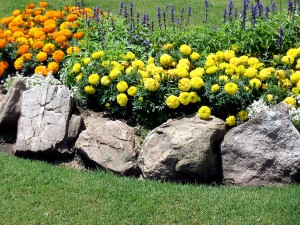 employed in the venture in order to achieve a rich palette of texture and color. So check out a few stunning design ideas to implement in your small Philadelphia landscape.
Design vertically – Many people think so one-dimensionally in the garden landscaping realm, but by integrating beautiful vertical aids such as trellises, arbors, raised flower beds, as well as plants of varying heights, you can utilize every inch of your small space while delivering big on impact.
Choose colors wisely – A small Philadelphia landscape might actually be made to feel more constricting by the use of big, bold colors. Incorporating cool colors such as blues, violets and whites can make the garden feel more spacious and less confining. The inclusion of dwarf trees also keeps the plants in scale with the limited area.
Try container gardening – There are literally so many possibilities. From the myriad of colors, styles, shapes and sizes of planters and containers there are to choose from, you can design a vivid focal point or an entire garden theme that reflects your own unique personality.
Add water – Water brings a mesmerizing element to the garden area, and there are water features to fit in the smallest of landscape designs. Wall-mounted fountains, birdbaths, tiny rock gardens, decorative water urns – there is something for literally every taste and size.
Consider a rock garden – For those who are interested in a lovely retreat with minimal to no maintenance, this may be just the thing for your small Philadelphia landscape. Oriental gardens emphasize simplicity and harmony, using water, rocks, sand and a few plants to create a wonderful, restful sanctuary.
In 2014, 2015, and 2016 Aardweg Landscaping of Newtown Square, PA  received the "Best Of Houzz" award for Customer Satisfaction

by Houzz. Aardweg Landscaping also received the exclusive "Recommended" badge for top rated professionals on Houzz in 2015.
Schedule a complimentary on-site consultation to discuss arrangements for landscape design, installation and maintenance with Philadelphia area Aardweg Landscaping by calling 610.355.0703, or sending us an email.