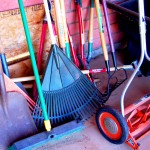 There's no doubt about it. Autumn is in full swing. The sky has clothed her in that royal shade of blue, and trees and shrubs are sporting their showiest foliage. And, homeowners naturally want to be outside and enjoy the ever-changing spectacle. Why not get a front row seat in the colorful parade and get your Main Line / Philadelphia landscape design all ready for the colder months at the same time?
While fall maintenance work is perhaps not as exciting as spring chores, there is still a distinct sense of satisfaction in getting things all tidy before winter arrives. And, done well, the yard and garden maintenance accomplished now can actually simplify spring to-dos.
So what should be on your checklist?
Clean up the beds – Flower gardens need some serious attention to prepare them for their winter sleep. Perennials need to be divided and cut back, the "new" plants being tucked in elsewhere in the landscape or given away to friends and family. Sticks, dead foliage and other debris need to be cleared from the ground to keep soil-borne diseases at bay. Fresh mulch needs to be spread.
Plant for fall color – Cheerful annuals can keep color coming right up until the cold arrives. Pansies, ornamental kale and mums are just a few possibilities for autumnal color in your Main Line landscape design.
Prepare containers – Tender tropical plants are very sensitive to cold temperatures, so preempt any casualties by cleaning up containers, deadheading, checking for pests, and then moving them to the indoors.
Protect sensitive plants – Roses and some perennials and other shrubs which can suffer damage from particularly cold winters need to get the additional support of extra mulch or some other protective material. These should be applied or put in place after the first freeze.
The work may seem daunting but will be so worth it! And you get the added benefit of enjoying the visual wonders of nature while at the same time putting your Main Line landscape to bed for the year.
In 2014, 2015, and 2016 Aardweg Landscaping of Newtown Square, PA  received the "Best Of Houzz" award for Customer Satisfaction by Houzz. Aardweg Landscaping also received the exclusive "Recommended" badge for top rated professionals on Houzz in 2015.
Schedule a complimentary on-site consultation to discuss arrangements for landscape design, installation and maintenance with Philadelphia area Aardweg Landscaping by calling 610.355.0703, or sending us an email.
---
Don't Miss Upcoming Garden Events in Tri-state PA, NJ & DE: Join Winterthur's horticulture staff for monthly garden walks the second Saturday of each month highlighting interesting and seldom seen parts of the Winterthur landscape. The walk begins at 1 p.m. (unless otherwise noted) beginning at the Visitor Center.
Members are free and the cost of this event is included with admission for non-members. The location is Winterthur Museum, Garden & Library, 5105 Kennett Pike, Wilmington, DE. (Image via Wikimedia Commons)