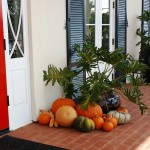 Certain images capture the presence of autumn — trees with blazoned foliage, crisply cool air, spider webs sparkling with heavy dew in the morning sunshine, pots full of chrysanthemums and pansies, and pumpkins. Of course, golden pumpkins! Harking back to pictures of the first Thanksgiving, pumpkins have been synonymous with autumnal emotions and seasonal decorations ever since.
Looking for some top spots to view fall foliage in Philadelphia?
How can you put some fall festivity via pumpkins into your Philadelphia landscape design? Here are four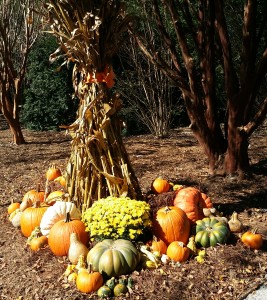 tips for adding a festive feel to autumn with pumpkins:
Accentuate the entrance to your home – By decorating around the front door, you create a focal point that catches the eye and suggests hospitality and warmth. Wreaths of beautiful vines and leaves mixed with sunflowers, ribbons and tiny pumpkins can make your home entryway really stand out.
Use steps for graduated displays – Steps provide a natural depth to the landscape, and you can employ these to create a dramatic effect by interspersing the levels with containers of fall blooming gems and pumpkins and gourds of various sizes, shapes and colors.
Enhance focal points – Tastefully arranging pumpkins and other fall accents along walkways and near prominent features in your Philadelphia landscape design and outdoor living area such as arbors, gates, seating areas, fountains, etc., positively explode with potential to showcase even more autumnal color.
Create a special display – For the gifted gardener, why not try an original presentation of pumpkins with hay bales, corn shocks, bushel baskets and fall-blooming annuals for a long-lasting splash of fall yard art? It infuses the desired color as well as a glimpse of personality into your design.
Don't limit yourself. Think outside the box, and see what happens. There really are so many possibilities in the ways pumpkins can be utilized as lovely autumn décor in your Philadelphia landscape design. Go for the "gold"!
In 2014, 2015, and 2016 Aardweg Landscaping of Newtown Square, PA  received the "Best Of Houzz" award for Customer Satisfaction

by Houzz. Aardweg Landscaping also received the exclusive "Recommended" badge for top rated professionals on Houzz in 2015.
Schedule a complimentary on-site consultation to discuss arrangements for landscape design, installation and maintenance with Philadelphia area Aardweg Landscaping by calling 610.355.0703, or sending us an email.