Since a swimming pool is not simply a feature unto itself, here are some wonderful ideas on how to make it figure cohesively into your overall landscaping design. For starters, use colorful plants liberally in surrounding garden beds.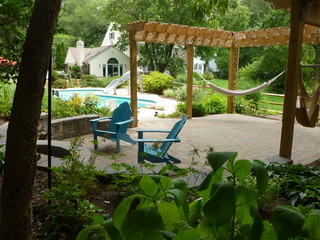 Give your pool landscape design the atmosphere of a lush, resort-like getaway with different varieties of plants and flowers that are at home near water and can hold up well in the summer heat.
Example plants are agapanthus, with its soothing shades of blue and white on lustrous green foliage, vibrant hibiscus with its tropical flair, or restful greens such as bamboo, papyrus or palms. Each of these are easy to maintain but lavish, hard-working star performers. Other Main Line pool landscaping design suggestions include:
Space attractive planters around the pool – Large urns and containers of potted annuals have the ability to bring bright splashes of color throughout the scheme and provide more portable cheery hues, complementing the garden beds in their fixed locations.
Incorporate shade trees – Especially in the summer heat, trees play a vital role in providing a cool place to rest within easy distance of your pool. A Main Line pool landscaping design professional brings a larger picture perspective to the placement of trees around your lovely oasis so that your setting is perfect.
Create an intimate seating area – An attractive and functional pool landscape design could also benefit from an arbor or pergola in which to place comfortable, cool seating or hang hammocks for an incredible relaxation setting. Or, engage an experienced Main Line landscape design firm such as Aardweg Landscaping to design an adjacent outdoor kitchen so that your summertime outdoor parties can have all the necessary elements for a fun time.
Integrate hardscapes into the pool landscape design – For a clean, natural effect, you can utilize earthy elements such as rock, stone, slate, brick and similar features to bring a strongly defined, grounded hardscape presence in your scheme.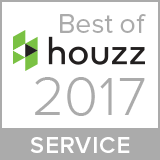 "Best Of Houzz" award for Customer Satisfaction
For four years straight — 2014 to 2017 — Aardweg Landscaping of Newtown Square, PA  has received the "Best of Houzz" award for Customer Satisfaction from Houzz. Aardweg Landscaping also received the  exclusive "Recommended" badge for top rated professionals on Houzz.
Steve Aardweg of Aardweg Landscaping
Possessing a broad knowledge of plants, Steve Aardweg of Aardweg Landscaping creates designs and installations that are naturally suited to the southeastern Pennsylvania, Main Line and metropolitan Philadelphia environment.
Schedule a complimentary on-site consultation to discuss pool landscaping design and installation with Philadelphia area Aardweg Landscaping by calling 610.355.0703, or by sending us an email using our website contact form.