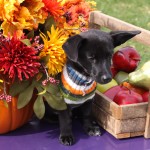 Regardless of how beautifully or professionally landscaped any garden design might be, everyone appreciates a splash of originality,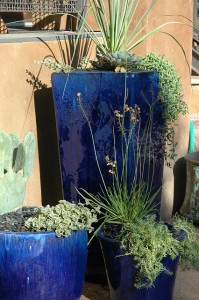 nostalgia and whimsy to infuse the landscaped garden with a bit of the homeowner's own personality and humor. How could you bring a touch of personalization to your Main Line landscaping design?
Upcycled materials fit perfectly in the outdoor living space. In fact, anything that holds beauty for you can be useful as a decorative objet d'art to add character, charm and interest.   What better way could there be to create a relaxing and personalized atmosphere than by adding repurposed garden elements that encourage reminiscence, or reminders of children's days gone by,  or memories of gatherings with beloved friends and family of the past?
Cherished items that hold beauty for you can be used as a decorative objet d'art to add character, charm and interest in the garden.  
You might consider "upcycling" old kitchen pots or colanders or old wooden crates for use as decorative planters spilling over with color and charm. Turning an old wagon or ramshackle wheelbarrow into a complete vibrant potted garden is positively wonderful in its simplicity and creativity. But re-purposing items for planters is not the only possibility for a flash of uniqueness in your landscaping design. Here are a few more creative ideas:
Eye-catching bird feeders or birdbaths can be constructed from antique light fixtures, pretty dishes and even simple pans perhaps spruced up with grapevine and copper wiring.
Intriguing pieces of metalwork (perhaps an antique child's toy, an old plow, a piece of fencing, or other interesting metal fragment) can provide delightful accents as lovely trellises for vines to climb on, or in flower beds carefully laid out by the professional.
Weather-beaten or purposely distressed furniture, far from appearing out of place in your overall design, can actually bring a touch of freshness and contrast to the scenery. The casual and well-used nature of the piece actually suggests that one could sit and relax without worrying about wearing off the newness.
These are simply a few of the many, many possibilities for upcycling to create a unique landscaped garden style. Basically, if you can dream it up, it can be done, and the only limitation is that of the imagination. So step outside of the box and bring a much-needed touch of personality and fun to your Main Line landscaping design.
In 2014, 2015, and 2016 Aardweg Landscaping of Newtown Square, PA  received the "Best Of Houzz" award for Customer Satisfaction by Houzz. Aardweg Landscaping also received the exclusive "Recommended" badge for top rated professionals on Houzz in

2015.
Schedule a complimentary on-site consultation to discuss arrangements for landscape design, installation and maintenance with Philadelphia area Aardweg Landscaping by calling 610.355.0703, or sending us an email.