Do you practice sustainable landscaping with your lawn and garden? Sustainable landscaping design is the concept of planning nothing into the design that will harm nature but only specifying plants, materials and features that will support and enhance it. This is sadly often contrary to more conventional landscaping practices of today.
Does creating a harmonious balance in your Main Line landscape design seem challenging? Here are 5 design ideas to make your lawn and garden lovely, sustainable and affordable:
Plant native plants – By implementing plants into your design that are indigenous to your own bit of the world, you invite hardy, low maintenance beauties to shine in their splendor – all for your benefit.
Channel water – A sustainable lawn and garden design seeks to utilize rainwater so as to limit the necessity for extra watering. Storm water drainage is a key component for this in the overall watering scheme for your Main Line landscape design.
Avoid toxic chemicals – So many of the pesticides, herbicides, fertilizers, etc., utilized in lawn and garden care are quite scary in their list of potential side effects and ecological ramifications. Sustainable landscaping practices make use of safer alternatives.
Landscape with edibles – One trendy option for the conservation-savvy homeowner is to use plants for both decorative and functional purposes. Wonderful candidates would include fruit trees and shrubs, as well as a wide spectrum of herbs, all which can bring an even greater value to and appreciation of your Main Line landscape design.
Hire an experienced landscape professional – If getting a sustainable lawn or garden plan from mere wishes into reality seems a bit daunting for you, highly-acclaimed

Aardweg

Landscaping has the experience with sustainable landscaping and indigenous plant knowledge to make it happen!
Famous author Rudyard Kipling once noted that "gardens are not made by singing 'Oh, how beautiful!' and sitting in the shade." They definitely require work! If homeowners realized how many terrible chemicals are also commonly used in trying to create and maintain that stunning garden – practices which are harmful to humans and the ecosystem – their environmental sensibilities would be horrified! Incorporate these sustainable landscaping suggestions into your landscape design and you will be more than satisfied with the finished landscape plan!
Steve Aardweg of Aardweg Landscaping
Possessing a broad and comprehensive knowledge of plants, Steve Aardweg of Aardweg Landscaping creates designs and installations that are ecologically sound and naturally suited to the southeastern Pennsylvania, Main Line and metropolitan Philadelphia environment.
"Best Of Houzz" award for Customer Satisfaction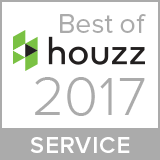 For the last four years, from 2014 to 2017,  Aardweg Landscaping of Newtown Square, PA  received the "Best Of Houzz" award for Customer Satisfaction from Houzz. Aardweg Landscaping also received the exclusive "Recommended" badge for top rated professionals on Houzz.
Schedule a complimentary on-site consultation to discuss sustainable landscape design and installation with Philadelphia area Aardweg Landscaping by calling 610.355.0703, or via our website contact form.