The Landscape Transformation Process
If you have been dreaming of a garden, yard, or general landscaping upgrade, you are in need of a landscaping transformation. This process is compelling and exciting to complete, but it can seem like a lot of work without the right help. The transformation is less overwhelming when broken up into steps; here is what it takes to achieve a garden transformation of your own. 
Step 1: Consultation
To begin your outdoor transformation, you must first schedule an on-site consultation with your local landscaping professionals to discuss your hopes and visions for the space. This will also give your landscaping expert the chance to do an initial survey, hear your ideas for the space, and give input into additional options you might not have considered. Here, experts might also photograph your space to help them tailor the design to your landscape. 
To prepare for the consultation, think through your vision for the space so that you have a good idea of what you are looking for before the visit. Be sure to write down any questions you may have ahead of time so that nothing gets left out. Of course, you can always follow up with the landscaping expert if anything comes up after the initial consultation. This prepares your expert to complete an initial landscaping design.
Step 2: Landscape Design
Following your consultation, your landscaping professional will craft a design in the format of your choosing.  This can include 2D designs, 3D designs, digital walkthrough designs, or complete master plans. To ensure that your yard, garden, or outdoor space looks like you envisioned, a landscape designer will craft this rendering of the projected space containing the elements that you have requested. This visual construction allows you to see what your space is expected to look like before you invest in the transformation.
Step 3: Transformation Evaluation
After working through the general design of the space, your landscaping expert will determine what tools and services your space needs to achieve this design. This includes calculating needed flora, water features, hardscape supplies, machinery, manpower, and more. Once the professional determines what your design needs to become reality, they can begin to finalize the design and calculate the project's estimated cost. 
Step 4: Proposal, Figures, and Design Finalization
This stage in the process is where the transformation really comes together. Here, the budget and figures are calculated so that you can arrive at a final price for the tools and services needed. Once the design is finalized and the proposal is accepted, the landscaping professionals can begin to prepare for installation. 
Step 5: Installation
Landscape installation is when you will begin to see your space come to life. This process involves first preparing the site by clearing out old or unproductive landscaping elements that might stand in the way of your new outdoor space. The next steps depend on the services you have chosen, but they might involve adding in fresh soil, installing a drip irrigation system, securing your hardscape, planting flora, installing water features, and completing any other agreed-upon elements. This process can be lengthy depending on the size of your space and the nature of your project, but it is well worth it once you see your newly transformed landscape.
Step 6: Maintenance and Growth
Over time, you will see your new flora grow to fill out any gaps in your initial installation. The plants will grow to fit your space, but you can avoid overgrowth or dwindling growth by keeping up with landscape maintenance. Maintenance can keep your plants healthy by making sure that they have the nutrients and conditions they need to thrive. This professional process can also ensure that your plants do not become overgrown or unruly. This landscaping service preserves your investment and keeps your outdoor space looking refined.
Landscaping Services Near Me
If you are looking for local landscaping experts to help with your garden transformation, Aardweg Landscaping is here for you. Our experts have extensive experience completing garden transformations in Philadelphia, along the Main Line, and in Tri-State hot spots. Contact our experts to get a head start on your landscaping transformation process today!
---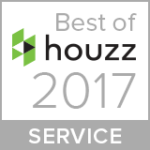 "Best Of Houzz" award for Customer Satisfaction
For four consecutive years—2014 to 2017—Aardweg Landscaping of Newtown Square, PA  has earned the "Best of Houzz" award for Customer Satisfaction from Houzz. Aardweg Landscaping has also received the exclusive "Recommended" badge for top-rated businesses on Houzz.
Steve Aardweg of Aardweg Landscaping
Maintaining a broad knowledge of all matters related to landscaping, Steve Aardweg of Aardweg Landscaping constructs landscape designs and installations that are naturally suited to southeastern Pennsylvania homes. For more information call 610.355.0703, or send us an email using our website contact form.