The Quick Landscaping Guide to Pergolas
No home is complete without a gathering space where you feel content in solitude and with guests. Having an outdoor social feature that you enjoy adds the benefit of connecting you and guests among nature. Landscape elements throughout your yard can make it a more welcoming space, but pergolas, in particular, are known for cultivating a sense of peace and tranquility. Here is everything you need to know about pergolas. 
Do Pergolas Provide Shade?
One of the most common questions surrounding pergolas (prompted by their open-concept) is whether or not these structures provide shade. Pergolas are far more than just aesthetic structures; these landscaping elements provide indirect shade, allowing you to enjoy some sun in while keeping you out of the harsh, direct sunlight. This makes it the perfect way to enjoy the outdoors while reducing the discomfort that direct sunlight can create. 
Why Install a Pergola?
Pergolas can foster greenery growth and vines, but their natural structure and subtle shade create an ideal gathering place. Your pergola can serve as a touchstone place where guests can return to after enjoying your pool, garden, or yard. This can also be a peaceful place for you to enjoy being surrounded by nature on your own. These structures create a perfect setting for chairs, tables, outdoor kitchen elements, and more. With the addition of a pergola, you can begin to create your ideal outdoor space. 
Increased Home Value
Having a pergola installed is not only beneficial while you enjoy your space; this landscaping element is known to increase property value and attractiveness to buyers. Outdoor entertainment features and other landscaping elements give you a one-up over other sellers, and buyers can easily envision themselves enjoying and entertaining under this luxury structure. This makes a pergola and other landscaping elements easy investments that some say even pay for themselves. 
Pergola Maintenance
The specific maintenance that your pergola requires depends on the type of wood it is composed of, the type of finish used, the location of your home, the climate patterns of your area, the time of year, and so much more. It is best to keep your pergola clean, but the cleaning patterns should be informed by your landscaping professional. Partnering with a maintenance plan with the landscaping specialist who designed and installed your pergola is an ideal way of keeping it preserved as long as possible. By regularly inspecting and caring for this element of your outdoor space, they can prevent any issues from occurring or detect them early enough to repair issues before they become costly problems.
Landscaping Professional Near Me
The specialists at Aardweg Landscaping are highly experienced in all matters of pergolas and other landscaping features! Aardweg Landscaping specializes in homes along the Main Line, but serves areas as far north as New Jersey, as far south as Delaware, and everywhere in between. Wondering if Aardweg Landscaping serves your area? Read more here about the communities we serve. With the experience to design, install, and maintain this element of your outdoor space, contact our experts today to get started!
---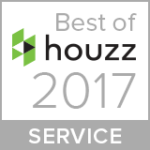 "Best Of Houzz" award for Customer Satisfaction
For four years straight — from 2014 to 2017 — Aardweg Landscaping of Newtown Square, PA received the "Best of Houzz" award for Customer Satisfaction from the renowned professionals of Houzz. Aardweg Landscaping also received the exclusive "Recommended" badge, reserved for only top-rated professionals on Houzz.
Steve Aardweg of Aardweg Landscaping
Possessing a broad knowledge of all things landscaping, Steve Aardweg of Aardweg Landscaping creates landscape designs and installations that are naturally suited to southeastern Pennsylvania communities. For more information call 610.355.0703, or send us an email using our website contact form. We look forward to hearing from you and helping you transform your outdoor space.