Fall Landscaping Care Tips
The autumn season can be a magical time for individuals who enjoy the cooler weather and falling leaves; however, this can be a time of change for your plants. Learn more here about how you can use this beautiful season to prepare your plants to thrive next spring.
Seasonal Changes | Perennial Garden Care
If you see your plants begin to dwindle with the change in season, rest assured that this is a natural time of change for your landscaping. For your plants to grow back healthy and strong, you need to get rid of any dead plant elements that might negatively impact spring regrowth. The tedious nature of deadheading perennials often makes this task best left to the professionals. By carefully removing the non-vital plant pieces, your landscaping professional can effectively prepare your plants to bloom in the spring. 
Fall Fertilization
Fall is an optimal time to fertilize your plants. Fertilization, soil amendment, or soil inspection and treatment are all ideal methods of enriching soil particles so that they can support your plants through the colder seasons. Adding additional fertilizer to the surface of your plant beds also can help protect them from the colder weather to come.
Hardscape Protection
Winter weather can spell trouble for some of your outdoor features, and autumn is the time to ensure they are ready and protected. Water expands when it freezes, so the freezing and melting cycles of colder seasons can damage your hardscapes and outdoor rooms. Water can enter these openings and expand when it freezes at night, creating or worsening cracks and damages. If your outdoor features have cracks and other vulnerable points, the fall season is the time to implement measures of protection for these features. A regularly scheduled maintenance visit will include a hardscape inspection to circumvent these problems and protect your outdoor space.
Fall Landscaping
While you might be familiar with the plant flourishments that happen every spring, you may not be aware of all the plants that thrive in the fall (besides pumpkins, of course). Fall is an ideal time to plant bulbs – like tulips – because they must be in the ground before the area's first frost of winter. Certain native greenery—such as hearty evergreens—can thrive year-round, so a symmetrical formal garden is an ideal way to spruce up your outdoor space for the fall.
Landscaping Suggestions
Every garden, yard, and outdoor space's fall care plan is unique to the specific landscape layout and the components that make it spectacular. Your first recourse for autumn landscaping care tips is to follow the guidance set by the expert landscaper who completed the design and installation. They will provide you with the information you need to preserve your landscaping investment. This care plan often involves regularly-scheduled maintenance, which can keep your plants healthy and your outdoor space protected throughout the changing seasons. 
Landscaping Help Near Me
If you are in need of landscaping care along the Main Line, the professionals at Aardweg Landscaping are an easy choice. With more than 35 autumns in the books, the experts at Aardweg Landscaping can give you the knowledgeable care you and your outdoor space deserve. Contact us today to connect with our Tri-State landscaping specialists!
---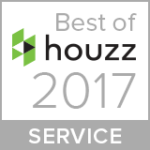 "Best Of Houzz" award for Customer Satisfaction
For four years straight — 2014 to 2017 — Aardweg Landscaping of Newtown Square, PA  received the "Best of Houzz" award for superb Customer Satisfaction from Houzz. Aardweg Landscaping also received the highly-exclusive "Recommended" badge for top-rated professionals on Houzz.
Steve Aardweg of Aardweg Landscaping
Possessing a broad knowledge of flora, Steve Aardweg of Aardweg Landscaping creates landscape designs and installations that are naturally suited to southeastern Pennsylvania communities. For more information, call 610.355.0703 or send us an email using our website contact form.