A Brief Guide to Landscaping Walkthrough Gardens
If walking clears your head or brings you peace, imagine taking your self-care strolls on a refined walkway, completely surrounded by greenery and flowers. If this sounds like a dream of yours, you need a walkthrough garden. Here is an overview of walkthrough gardens—brought to you by a Pennsylvania landscaping professional—to inspire your outdoor dreams.
What is a Walkthrough Garden?
A walkthrough garden is defined both by the eye-turning garden elements and the clear pathway that lets you enjoy this flora from all sides. This pathway can lead to your front door, patio area, outdoor kitchen, garden, gazebo, or another outdoor element. Within your garden, you can feature a wide variety of landscaping elements, which can include water features, statues, seating areas, and more! 
Walkthrough Gardens: Landscaping Design Process
To ensure that your walkthrough garden is designed to meet your unique idea of perfection, a professional landscaper will work with you to customize the design process. With an on-site consultation, you can explain where you would like your walkthrough garden to live and what you would like it to include.  Do you imagine your pathway lined with neat shrubbery? Or perhaps brightly-colored perennial flowers? This process includes deciding which native plants you would like inside of your garden, as well as what kind of pavement you prefer.
You can also decide which type of design work you would like to receive: a 2D design, photographic image design, a 3D design, or a master plan walkthrough. Learn more here about each of these design deliverable options.
Once your walkthrough garden design is finalized, your landscaper can begin the installation process. Watch your walkthrough garden come to life before your very eyes. Whether you choose stunning colors with perennial flowers or tranquil greenery, your walkthrough garden is sure to be the happiest part of each day.
Walkthrough Garden Maintenance
Keeping your outdoor space maintained can be difficult, but your garden should be a place of peace for you, not a source of stress. Let your professional landscaping service do the work for you! During maintenance visits, your professional landscaper can care for your plants, helping you keep them alive throughout the seasons. Your landscaping expert will also inspect your pathway for cracks, bumps, and other signs of damage. Plant roots, poor weather, and consistent wear can cause trouble for your walkway, but early detection and care during landscaping maintenance visits will ensure that your walkthrough garden stays in perfect order. 
Landscaping Help Near Me | Landscaping Along the Main Line
The experts at Aardweg Landscaping have more than 35 years of experience serving the Suburban Philadelphia, PA and beyond. With a wide range of landscaping specialties, the professionals at Aardweg Landscaping can help you with any garden, yard, or outdoor project you are dreaming of. Contact our experts to get started on your walkthrough garden project today!
---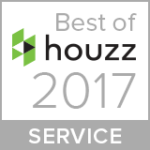 "Best Of Houzz" award for Customer Satisfaction
For four years straight — 2014 to 2017 — Aardweg Landscaping of Newtown Square, PA has received the "Best of Houzz" accolade for Customer Satisfaction from Houzz. Aardweg Landscaping also received the exclusive "Recommended" badge for top-rated, preferred professionals on Houzz.
Steve Aardweg of Aardweg Landscaping
Possessing a broad knowledge of all things flora, Steve Aardweg of Aardweg Landscaping creates landscape designs and installations that are naturally suited to southeastern Pennsylvania communities. For more information call 610.355.0703, or send Aardweg Landscaping an email using our website contact form.