Landscaped Waterfalls: A Professional's Guide
While some people may travel the world to get a glimpse at striking waterfalls, it is achievable to have such a marvel in your own backyard. This is made possible thanks to expert landscaping skills in water features. Here is a landscaping guide to backyard waterfalls, brought to you by a Main Line landscaping professional.
How do Landscaped Waterfalls Work?
If you are considering a landscaped waterfall, you might be wondering where the constantly-flowing water is sourced from. Closed-loop, recirculating designs allow the same water to continually flow through your feature. This means that you can have tranquil running water in your garden or yard without paying the price in your monthly water bill. When using the latest technology, landscaped waterfall designs are seamless and environmentally-friendly.
Waterfall Maintenance
It is easy to write off the possibility of having your own waterfall under the assumption that they are too difficult to care for. However, biological or mechanical filtration can be used to keep the maintenance of your waterfall as minimal as possible. While regular upkeep is still required to prevent, detect, and repair any issues to your water feature, all necessary maintenance can be completed under a landscaped maintenance agreement, so you never have to worry about the care your waterfall needs.
Benefits of Landscaped Waterfalls
These landscaping water features come with a wide range of benefits for you. Here is what you can gain from this style of landscaping investment:
Space of Gathering: A waterfall provides the opportunity for a social space of gathering. You can create a seating area with the waterfall as the focal point, giving you a peaceful place to connect with friends and family.
Ambient Noises: The sound created by moving water is perhaps most prevalent with landscaped waterfalls. Enjoy the natural sound of running water from the comfort of your own backyard.
Increased Home Value: As with any landscaping investment, landscaped waterfalls can increase your home's retail value. This helps offset the costs associated with landscaping service.
Personal Retreat: The relaxing nature of waterfalls can provide you with your own personal paradise. This may help lower your stress levels, clear your mind, and improve your overall wellbeing.
Your waterfall can run into a koi pond, inground spa, or fountain, making it a diverse water feature selection. To achieve the waterfall of your dreams, simply describe your vision to a local landscape designer. Landscape experts will work with you until they have the perfect design, which they can then use to install the ideal backyard waterfall.
Landscaping Help Near Me
With all of the expertise that you need for your very own backyard waterfall, the professionals at Aardweg Landscaping are here for you! Proudly serving the Main Line, Suburban Philadelphia, the Tri-State area, and beyond for more than 35 years, we have the experience with waterfall design, maintenance, and installation that you can trust. Contact our Philadelphia landscaping specialists today to get started!
---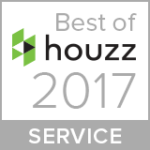 "Best Of Houzz" award for Customer Satisfaction
For four years straight — 2014 to 2017 — Aardweg Landscaping of Newtown Square, Pennsylvania has been awarded the "Best of Houzz" award for Customer Satisfaction from the specialists at Houzz. Aardweg Landscaping also received the exclusive "Recommended" badge for top-rated experts in the Houzz network.
Steve Aardweg of Aardweg Landscaping
Possessing an extensive knowledge of native Pennsylvania plants, Steve Aardweg of Aardweg Landscaping creates landscape designs and installations that are naturally suited to southeastern Pennsylvania areas. For more information call 610.355.0703, or send our experts an email using our website contact form.