Landscaping Tour of Philadelphia
Now is the best time to tour Christmas lights on display across the state. While these bright lights are undoubtedly beautiful, it brings up the question of why we do not appreciate the beauty of our state year-round. For those who love spring and miss the warmer weather, here is a landscaping alternative to holiday light tours. Check out these landscaping marvels across the Main Line, PA and beyond.
Wayne, PA
The summers in Wayne, PA are filled with plenty of sun and time with those you love. The perfect landscaping arrangement can help you enjoy the summer season in peace. Masterfully crafted to suit your ideal day off, landscape borders like these in Wayne will capture your visions of summertime peace.
Landscaped Pond in Bala-Cynwyd
Landscaped to perfection, these beautiful and nature-filled water features are the perfect way to bring an outdoor space to life. For a true backyard marvel, check out this landscaped pond in Bala-Cynwyd. Evenly balanced between highly aesthetic and easy to maintain, this landscaping feature offers a complete oasis in your Philadelphia garden.
Suburban Philadelphia
Suburban Philadelphia is known for its sophisticated landscaping compositions. These formal gardens capture the stunning nature of the area in a unique manner. Known for their geometric shapes, formal gardens offer an outlet for endless creativity within a neat, clean aesthetic. Best of all, these formal gardens often feature evergreen shrubs, so you can enjoy a stunning garden year-round.
Hardscape in Merion Station
While you may have thought of the landscaping field as dealing only with plants, you can also find incredible hardscapes and outdoor rooms designed and installed by your favorite landscaping experts. What better way to enjoy the changing seasons in the Tri-State area than from the center of your outdoor kitchen. Underneath a pergola, you can relax and watch the leaves change colors. This landscaping feature offers the gathering space of your dreams as you prepare food outdoors while your children play in the yard.
Gladwyn, PA
The flowers that grow in native to Philadelphia can be seen with these Gladwyn gardens. The plant diversity present within these and other Pennsylvania gardens is beyond what most can imagine. Flowers of every height and color can be beautifully arranged to complete your outdoor space. Taller flora has the added benefit of adding privacy to your home. These Gladwyn garden pictures speak for themselves.
Local Landscaping Expert
The professionals at Aardweg Landscaping are here to help you achieve your ideal landscaping arrangement. With more than 35 years in the industry, we have the skills, expertise, tools, and knowledge needed to create a landscaping marvel that will turn more heads than the Christmas lights. Contact our Philadelphia landscaping experts to get started today!
---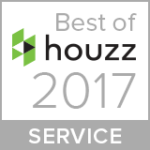 "Best Of Houzz" award for Customer Satisfaction
For four years straight — 2014 to 2017 — Aardweg Landscaping of Newtown Square, Pennsylvania has been awarded the "Best of Houzz" award for Customer Satisfaction from the professionals at Houzz. Aardweg Landscaping also received the exclusive "Recommended" badge for top-rated experts in the Houzz network.
Steve Aardweg of Aardweg Landscaping
Possessing an extensive knowledge of native Pennsylvania plants, Steve Aardweg of Aardweg Landscaping creates landscape designs and installations that are native to southeastern Pennsylvania areas. For more insight call 610.355.0703, or send our specialists an email using our website contact form.