Six Signs You Need an Outdoor Kitchen
An outdoor kitchen is a hardscape installation that can revolutionize your home and your cooking experience. Are you wondering, "Do I need an outdoor kitchen?" The experts at Aardweg Landscaping know a thing or two about these hardscape designs and installations. Here are the six signs that an outdoor kitchen is right for you!
1. You are Looking For an Easy Way to Make Healthier Foods
In addition to upgrading your outdoor space, an outdoor kitchen gives you an easy way to enhance healthy food preparation. Opposed to a frying pan, grilling outdoors allows more of the fat drip off of your favorite foods. It also gives you a new way to enjoy already-healthy foods like vegetables by adding a flavorful layer of smokiness.
2. You Want To Improve Cooking Experience
Cooking indoors can be cramped and hot, especially during the summer months. Let the steam roll away when you cook outdoors. Additionally, some foods carry strong smells, which can get trapped indoors when you cook. These odors can linger for days, altering the environment in your home and attracting critters from outside. An outdoor kitchen is ideal for the exploratory cook who wants the best of both worlds. This investment improves your cooking experience while leaving your home unaffected.
3. You Want to Increase the Retail Value of Your Home
When you invest in an outdoor kitchen, you get to enjoy this beautiful and practical space for as long as you live in your home. However, this investment continues to benefit you even as you move away. An outdoor kitchen will attract homebuyers and increase the retail value of your home. This means that you are likely to receive a return on your outdoor kitchen investment.
4. You Consider Yourself a Grilling Expert
A master on the grill deserves a masterful kitchen. Instead of transitioning between inside and outside while grilling, you can have everything you need conveniently organized in your outdoor kitchen. This will make your job at the grill easier and more enjoyable. If you are looking for the perfect gift for the grilling aficionado in your life, an outdoor kitchen is an ideal place to start.
5. You Like To Spend As Much Time as Possible Outdoors
If the only thing you love more than preparing food is the great outdoors, then you can combine these two favorites with an outdoor kitchen. Outdoor kitchens are perfect for chefs who would stay outdoors all day if they could. Take in the view of your stunning landscape while doing one of the things you love most: cooking on the grill.
6. You are the Go-To Party Host
If your home is the popular spot for family and friends to gather, an outdoor kitchen can provide the perfect space to facilitate your dinner parties and other events. For homes with a beautiful landscape design that is still missing something a little more conventional, an outdoor kitchen might be just what you need. An outdoor kitchen allows you to prepare food while remaining in the center of the excitement.
Aardweg Landscaping | Outdoor Kitchen Design and Installation
When you are ready to get started on your outdoor kitchen, give the experts at Aardweg landscaping a call. Our professional landscapers have more than 35 years of experience installing outdoor kitchens and other landscaping marvels in areas along the Main Line, Suburban Philadelphia, the Tri-State Area, and beyond. Give Aardweg Landscaping a call or contact us here online to schedule your consultation.
---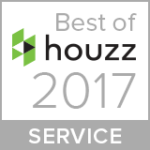 "Best Of Houzz" award for Customer Satisfaction
The professionals at Aardweg Landscaping are honored to announce that for four years straight — 2014 to 2017 — Aardweg Landscaping of Newtown Square, Pennsylvania has been selected for the "Best of Houzz" award for Customer Satisfaction from the professionals at Houzz. Aardweg Landscaping also received the elite "Recommended" badge for top-rated experts in the Houzz network.
Steve Aardweg of Aardweg Landscaping
Using a wide-spread knowledge of natural Pennsylvania plants, Steve Aardweg of Aardweg Landscaping creates landscape designs and installations that are native to southeastern Pennsylvania areas. For more information, call 610.355.0703, or send our professionals an email using our website contact form.